Sign-Up for Precision Growth
How would you like to work less, yet accomplish more?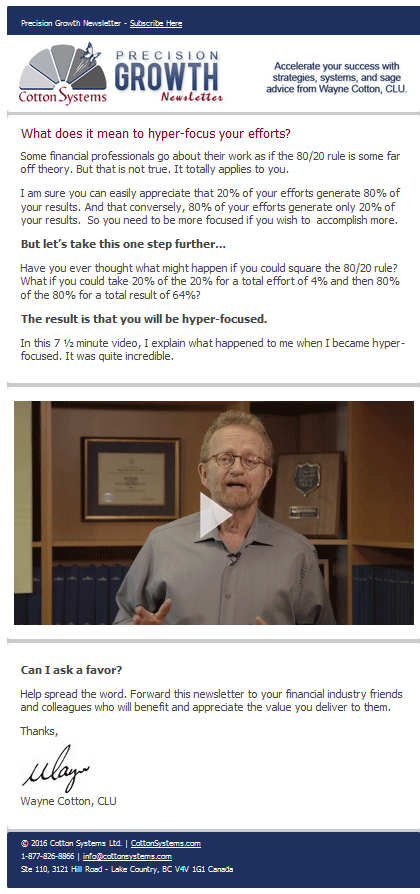 That's a dumb question right? Yet many people struggle to find smart answers.
We all suffer from information overload. There are so many directions, options and possibilities. It is easy to get overwhelmed with too much stuff. What we need are focused concepts that actually work in real life.
My insights will help you grow in both your personal and professional lives. While my area of specialty is that of a Growth Guide for Financial Professionals, many of my proven concepts apply to anyone in business.
Here is what you'll receive:
When you sign up for Precision Growth you will receive my Precision Growth email mini course.  Following that once a week you'll receive an email with short, 4 to 8 minute videos on Precision Growth focused topics that deliver value to you.
You'll also receive periodic invitations to check out my Precision Growth exclusive online classes and live workshops.
Don't worry, you can unsubscribe at any time. Each email has an unsubscribe button. 
Also we'll always treat your personal details with the utmost care and will never sell them to other companies for marketing purposes.
Fill in fill the blanks below to get started…
Your email address will NOT be rented, traded or sold - and you can unsubscribe
from these emails at any time. I hate spam as much as you do and I will protect your information.